A Blockchain-based Containerized Edge Computing Platform
for the Internet of Vehicles
IEEE Internet of Things Journal
Laizhong Cui1 Ziteng Chen1 Shu Yang1 Zhongxing Ming1 Qi Li2 Yipeng Zhou3 Shiping Chen4 Qinghua Lu4
1Shenzhen University 2Tsinghua University 3Macquarie University 4Data61, CSIRO
Abstract
Edge computing is promising to solve the latency issue in the Internet of Vehicles (IoV). However, due to decentralization, traditional edge computing suffers in management, deployment, and security. Containerization relaxes resource deployment and migration problems, but current container scheduling policies are inefficient to process complicated tasks based on directed acyclic graph or DAG structures. In this article, we design a containerized edge computing platform CUTE, which provides low-latency computation services for the Internet of Vehicles. The centralized controller is empowered with resource management and orchestration, and containers are scheduled to appropriate edge servers to optimize the computation delay. CUTE is also integrated with blockchain to improve network security. We formulate the vehicle task offloading and container scheduling problems and develop a heuristic container scheduling algorithm for DAG-based computation tasks submitted by vehicles remotely. We implement and deploy CUTE into the China Mobile Network, and conduct comprehensive experiments and a case study. The experiment results show that CUTE can provide low-latency computation services for vehicular applications and that the heuristic algorithm outperforms traditional container scheduling policies.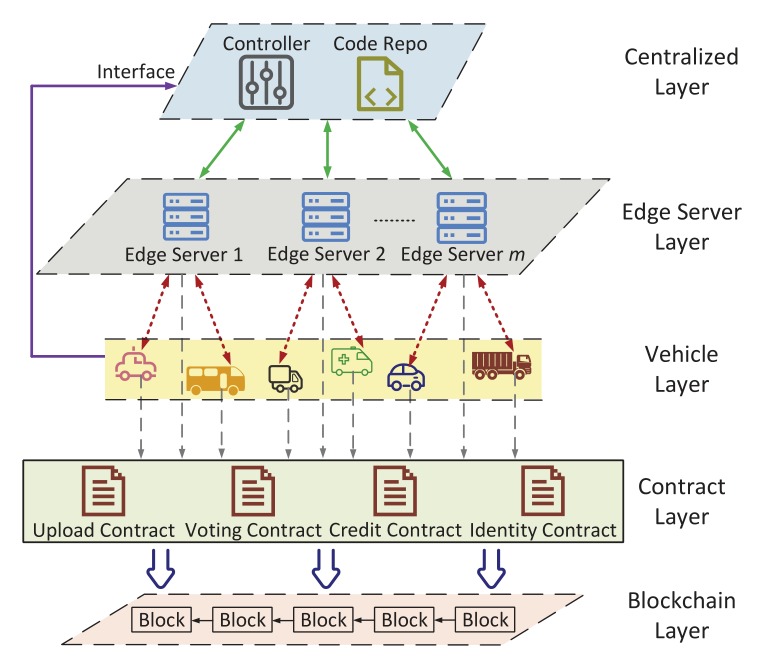 Fig. 1. Vehicles in the network can offload their computation tasks to CUTE remotely or com- pute the tasks locally. When submitting to CUTE remotely, the computation tasks and corresponding containers will be scheduled to the proper edge servers to optimize the remote offloading computation delay for vehicles.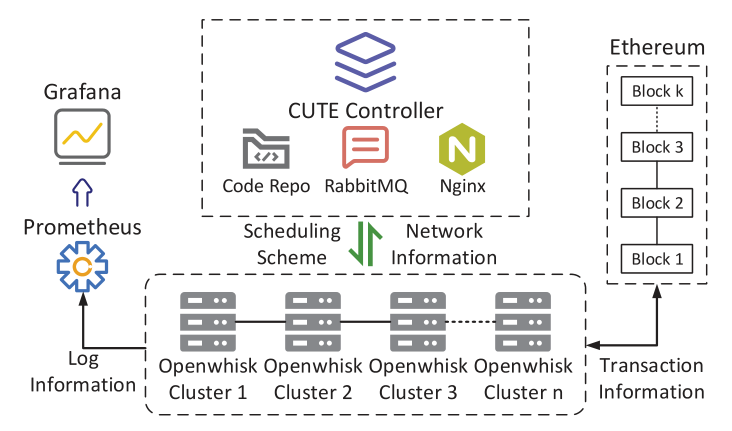 Fig.2. CUTE is organized in a master-slave structure, where the centralized controller is allowed to collect and manage the distributed edge servers and vehicles. CUTE uses and improves IBM Openwhisk as the serverless computing platform, and Kubernetes as the container orchestration and management tool.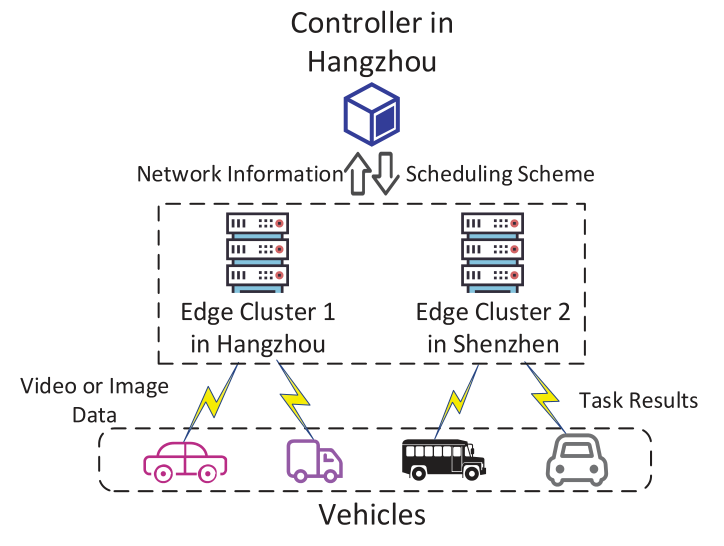 Fig. 3. We deploy CUTE in the China Mobile Network, where the controller is placed in Hangzhou, China, along with two edge computing clusters in Hangzhou, China, and Shenzhen, China, respectively (as shown in Fig. 3). The clients are distributed in different locations and will submit a total of 60 object detection tasks. We will evaluate the latency performance of object detection, which is the remote offloading computation delay for vehicles.
Acknowledgements
This work was supported in part by the National Key Research and Development Plan of China under Grant 2018YFB1800302 and Grant 2018YFB1800805; in part by the National Natural Science Foundation of China under Grant 61772345, Grant 61902258, Grant 61672358, and Grant 61836005; in part by the Major Fundamental Research Project in the Science and Technology Plan of Shenzhen under Grant JCYJ20190808142207420 and Grant GJHZ20190822095416463; and in part by the Pearl River Young Scholars funding of Shenzhen University.
Bibtex
@ARTICLE{9209046,
author={Cui, Laizhong and Chen, Ziteng and Yang, Shu and Ming, Zhongxing and Li, Qi and Zhou, Yipeng and Chen, Shiping and Lu, Qinghua},
journal={IEEE Internet of Things Journal},
title={A Blockchain-Based Containerized Edge Computing Platform for the Internet of Vehicles},
year={2021},
volume={8},
number={4},
pages={2395-2408},
doi={10.1109/JIOT.2020.3027700},
}
Downloads